Dentistry has been portrayed in the media for many years. In a previous blog post I started a series called Dentistry in Pop Culture where I highlighted a few scenes from recent movies and television shows that portray dentistry. The big and small screens are not the only places dentists have shown up in cultural media though. Check out the following paintings depicting dentistry from very different locations and eras. I'm not an art expert by any means, but I do appreciate quality artwork, especially when it depicts something I love.
American Gothic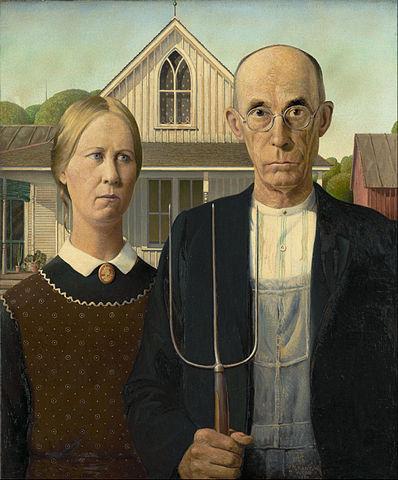 Painted in 1930, American Gothic won $300 and instant fame for Grant Wood. Wood was traveling in his home state of Iowa and noticed the wooden farmhouse with the long window on top. The farmer and his daughter were added to match the long window in one of the most iconic American paintings ever. These are tough, hard-working people who live strict, regimented lives. They've seen their share of hardship and refuse to be broken. What does this have to do with dentistry? The figures in the painting were modeled by Wood's sister and his dentist. That might just be the most famous dentist in the word, even though almost nobody knows who he is.
The Tooth Puller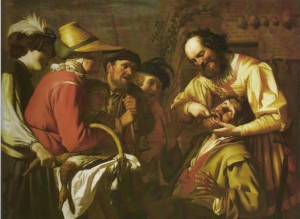 This painting was created in 1627 by Dutch Baroque painter Gerard Von Honthorst. It is currently displayed in the Louvre in Paris. The dentist is not wearing gloves, local anesthetics had not yet been invented, and I'm sure the forceps the dentist is using were not very sterile.  We've sure come a long way since 1627. I love the dentist's sweet beard and luxurious robes; we really need to bring that back into style in my profession.
Mickey's Toothache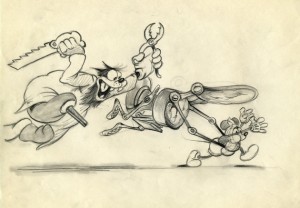 This sketch was released by Disney's archives in 2013. It was drawn in 1938 by cartoonist Ferdinand Horvath. It comes from a short cartoon where Mickey goes to the dentist, overdoses on laughing gas and enters a nightmare world where he is chased by living dental floss, dental chairs, teeth, and a pair of pliers. The cartoon reaches its climax as Mickey is put on trial by a wisdom tooth and found guilty of dental neglect. I am already praying hard that Disney will release the full animated cartoon to the public someday. I'm always in need of more good material to scare kids into flossing.
A First Visit to the Dentist
This painting was done by English Painter Edward Hughes in 1866. Anesthetic was still not around in 1866, but the painting does depict a somewhat more civilized picture than The Tooth Puller painting above. I love the facial expressions in this painting. I've seen this scene hundreds of times: the mother is getting ready to hold her daughter and vicariously feels concern for what is about to happen. The dentist, although probably a kindly man, conceals his forceps behind his back and wears a false smile to gain access to the girl's tooth. The best part is the girl's expression of anxiety and impending doom of uncertain magnitude; she has no idea how much this tooth extraction is going to hurt, but she knows trouble is definitely brewing.   This calm before the storm, if you will, is one of the moments I hate most about my job.
-Nicolas K. Young, DMD