Consider what it would be like if one or both of your front teeth fell out unexpectedly in Orem. Everything would be affected, including smiling, talking, and eating. If you partake in organized sports or other leisure activities, knowing how to avoid injuries to your face and mouth is vital and look for counter services.
Mouthguards, also known as mouth shields, cushion the impact of a hit to the face, reducing the risk of broken teeth and damage to the lips, tongue, cheeks, and jaw. They usually cover the upper teeth and provide excellent protection for the tongue, lips, and cheek lining. Dr. Thomas Long, a private practice dentist and team dentist for the Carolina Hurricanes professional hockey club, says, "Your top teeth take the brunt of trauma because they stick out more." Your bottom teeth are a little more protected because they are further back.
When Is It Necessary to Wear a Mouthguard?
A mouthguard is an important component of athletic wear that should be part of your standard kit from an early age to safeguard your mouth.
While crashing and collision sports, such as kickboxing, are more dangerous for the mouth, any athlete can sustain a mouth injury while participating in non-contact hobbies like acrobatics or skateboarding.
Mouthguards Come in a Variety of Styles
The finest mouthguard is one that your dentist has manufactured specifically for you. A stock mouthpiece or a boil-and-bite gumshield from the drugstore should suffice if you didn't afford a personalized mouthguard.
Custom-made
These are produced specifically for you by your doctor. Since they are individually designed for fit and convenience, they are more costly than others.
Boil and bite mouthguards
These are available at many sports equipment and pharmacies and may provide a better fit than stock mouthguards. They're softened in liquid (cooked), then placed and let to mold slightly shape your mouth. Strictly follow the directions provided by the company. The ADA Seal of Acceptance has been given to the CustMbite MVP and CustMbite Pro boil and bite mouthguards.
Stock
These are low-cost and arrive pre-formed and ready to put on. Sadly, they don't always work out. They might be cumbersome, making it difficult to breathe and speak.
Keeping Your Braces Safe
People wearing braces or having permanent bridgework may benefit from a fitted properly mouthpiece. A blow to the face could damage fittings or other fixed orthodontic devices. A mouthguard also acts as a barrier between the braces and your cheeks or lips, protecting your gums and cheeks from injury.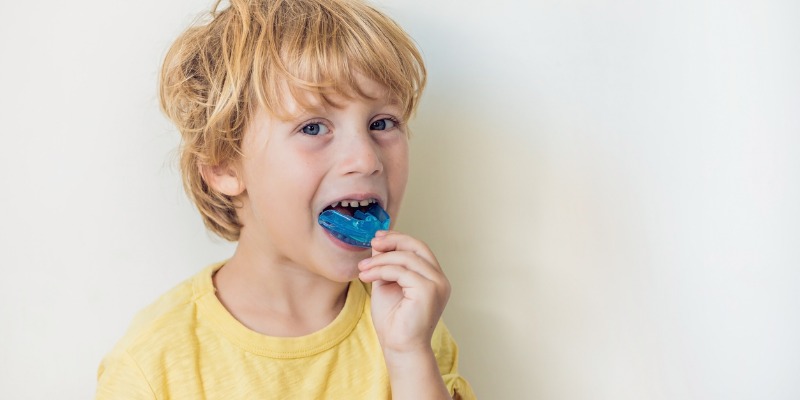 Consult your dentist or orthodontist to get a mouthguard appropriate for your needs. Even though some mouthguards only cover the upper teeth, if you have orthodontics on your lower teeth, your doctor or orthodontist may recommend that you wear one.
Wearing a retainer or other detachable device during contact sports is not recommended.
Care and Maintenance of Mouthguards
Consult your dentist about when it's better to upgrade your mouthguard, but remove it right away if it's showing signs of wear, is damaged, or isn't fitting properly. Since teenagers' and children's mouths are still evolving and expanding, they may need to update their mouthguards more frequently.
It's critical to maintain your mouthguard hygienic and dry between matches. Here are some suggestions for keeping your mouthguard in good working order:
Rinse well during each usage, or brush with paste and a toothbrush.
Wash the mouthguard in cold, soapy water regularly. Then rinsing it.
Bring your mouthpiece to your dental health exams and examination. Your dentists may be capable of cleaning it thoroughly as well.
Keep the mouthguard in a durable container with vents to let it dry and prevent bacteria from forming.
Do not expose the mouthguard to the sun or hot water.
Examine the fit and look for evidence of wear and tear to determine whether it needs to be replaced.
Some mouthguards have been chewed on by family pets who mistake them for toys. Your mouthguard and case should be kept out of reach of your pet.