Not a day goes by without someone telling me how afraid they are of needles, extractions, and root canals, so I am very aware that assigning the title "Most Fearsome Dentist Ever" is no small thing. Meet John Henry "Doc" Holliday, a man who fully lives up to the accolade. Most recognized by his friendship with Wyatt Earp and role in the Gunfight at the O.K. Corral, Doc Holliday was a legendary Old West gunfighter, gambler, and by all accounts . . . very good dentist!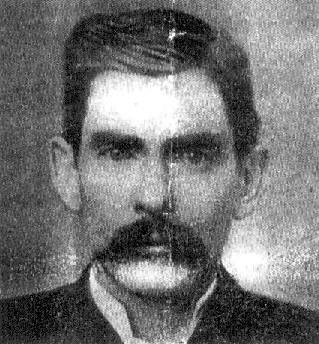 Holliday was born in Griffin, Georgia in 1851 and grew up as an only child among a large, cohesive extended family. The Civil war scattered his family when his father was forced to move the household to Valdosta, GA, near the Florida border. Soon after the move, consumption (tuberculosis) claimed the lives his mother and stepbrother. In spite of the family's trials, Holliday found solace in his studies, did very well in school, and was accepted to the Pennsylvania College of Dental Surgery at age 18.
Holliday attended dental school from 1870 to 1872 and graduated with a DDS degree at the age of 19, which was legally too young to even practice dentistry in his home state of Georgia. During his dental school years, Holliday demonstrated excellent hand skills; projects he prepared as a student were entered into a dental skills competition in the 1873 Dallas County Fair and he won all three contests: Best Set of Gold Teeth, Best Vulcanized Rubber (early method of taking impressions), and Best Set of Artificial Teeth and Dental Ware. After graduation, Holliday worked as an assistant to his dental school classmate in St. Louis and as an associate dentist in Atlanta, before finally opening his own dental practice in his hometown. His Griffin, Georgia practice did not last long, however, because soon after opening it he contracted tuberculosis and was given only had a few months to live.
Hoping the dry climates of the West would stay his illness and prolong his life, Holliday moved to Texas in 1873, where he found a position working with another dentist. Due to his health issues and ongoing cough, patients were wary of Dr. Holliday and he struggled to make a living. Luckily, his talents were not limited to fixing teeth; he soon discovered a penchant for gambling and actually made more money playing poker than doing dentistry. Holliday was involved in many fights as a result of his wild, gambling lifestyle, and he was even accused of murder in Dallas.
After escaping the murder charges, Holliday moved around to various cities before finally ending up in Dodge City, Kansas, a hotspot for gamblers and gunfighters. It was during this time that Holliday met Wyatt Earp, and in the summer of 1878, Holliday was playing cards in a bar, where he witnessed a group of desperados surround and make an attempt on the life of Earp. Holliday came to Earp's aid by drawing his gun on the leader of the assailants, saving Earp's life, and initiating what would become a strong friendship for the rest of his life. During his time in Dodge City, Holliday continued to make a living as a gambler, but also practiced dentistry on the side from his hotel room. A Dodge City newspaper from the era shows an advertisement from Holliday promising 'money back for less than complete customer satisfaction.' Holliday's time in Dodge City would be the last time he practiced dentistry.
Holliday would later follow Wyatt Earp to Tombstone, a booming mining community in the Arizona Territory. In Tombstone, Wyatt Earp and his brothers became engaged in a feud with the Clantons and McLaurys, a group of outlaws called the Cowboys. 1n 1881, Holliday was with the Earp brothers when they attempted to disarm a group of Clantons at the O.K. Corral. Shooting erupted from the confrontation and the30-second struggle would go down as one of the most famous gunfights in history. Soon after the shootout, the Cowboys took revenge by striking back and killing Wyatt's brother Morgan. After the assassination of his brother, Wyatt, accompanied by Holliday, set out on the famous Earp Vendetta Ride, an almost month-long mission of bloodlust and vigilante justice that resulted in a trail of dead outlaws. Holliday's health eventually worsened, and he later succumbed to tuberculosis and died in a Colorado hotel in 1887.
In his life, Doc Holliday was arrested at least 17 times, participated in countless fights, was present in 9 shootouts, killed between 3 and 7 men, and had a fantastic mustache. Most importantly though, Holliday single-handedly established dentistry as the profession of choice for rugged, no-nonsense tough guys from whom cavities and gum disease cower in fear.
Nicolas K. Young, DMD