Patient Reviews
This is by far the best dental experience I have had. Staff, hygienists, and Dr. Young are extremely competent, careful, precise, and kind. The cleaning experience is thorough and comfortable---no gritty residue left after polishing. More detailed work (i.e. fillings and crown installation) was done quickly and with minimal discomfort. Canyon Gate has the capability to design, construct and install a crown, all within a couple of hours---no temporary crowns and repeat visits. Canyon Gate Dental has my highest and most enthusiastic recommendation
Dr. Payne is most congenial, and his greatest concern is with his patients comfort and what will give the best results for the patient.
Welcome to Our Site!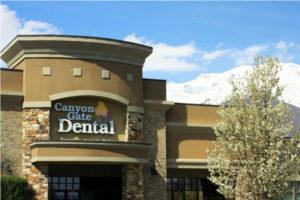 Canyon Gate Dental is home to the most caring and gentle dental team in Orem, Utah. Dr. Glenn Payne, Dr. Nick Young, and their excellent staff can take care of all your family's restorative, preventive, cosmetic, and emergency dental needs. With reasonable prices, a treatment philosophy emphasizing prevention and education, and a track record of consistently doing things right and going the extra mile, Canyon Gate Dental will provide your family with the best dental experience to be had in Utah Valley. Call to make an appointment today. We can't wait to meet you and help you keep your smile healthy and beautiful for a lifetime.
We provide the following services and features, plus many more, in our Orem, Utah office: