[row][span12][one_fourth]
Learn About Us
Canyon Gate Dental is the highest rated Dentist in Orem Utah. We have one of the most caring and highly trained dental teams around. Get to know Dr. Young, Dr. Payne and their excellent staff.
more info
[/one_fourth][one_fourth]
Latest Blog Posts
[recent_posts num="1″ post_format="standard" meta="false" thumb="true" custom_class="latestPost" thumb_width="256″ thumb_height="198″ more_text_single="more info" category="dental-treatment" excerpt_count="30″][/one_fourth][one_fourth]
Cosmetic Dentistry
We are dedicated to creating and maintaining healthy, bright smiles that last a lifetime. Learn how we can help you achieve the smile you've always wanted.
more info
[/one_fourth][one_fourth]
Emergency Dentistry
Do you have a toothache or other emergency? Let's get you in right away. Our team takes excellent care of people, even if it's after hours or on a weekend.
more info
[/one_fourth]
[/span12][/row] [row][span4]
Patient Reviews
The staff here is so nice and helpful! They will always check-up on you after bigger procedures (crown, root canal, etc.). They also stay open later on Wednesdays which is really nice because I don't have to ask for work off.
I have been to many dentists over the last decade until stubbling on D.r. Young. They are fantastic and really take good care of their patients. I highly recommend to anyone looking for the BEST dentist in Utah County.
[/span4][span8]
Welcome to Our Site!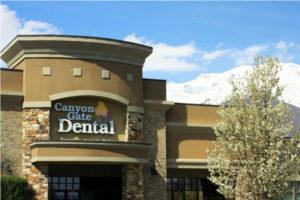 Canyon Gate Dental is home to the most caring and gentle dental team in Orem, Utah. Dr. Glenn Payne, Dr. Nick Young, and their excellent staff can take care of all your family's restorative, preventive, cosmetic, and emergency dental needs. With reasonable prices, a treatment philosophy emphasizing prevention and education, and a track record of consistently doing things right and going the extra mile, Canyon Gate Dental will provide your family with the best dental experience to be had in Utah Valley. Call to make an appointment today. We can't wait to meet you and help you keep your smile healthy and beautiful for a lifetime.
We provide the following services and features, plus many more, in our Orem, Utah office: