Patient Reviews
I do not like going to the dentist, I have sensitive teeth and I always leave with a headache from the drilling noises and such, but I have been coming here since I was 19 and Dr. Young has just been so nice and accommodating. He is always making sure that I'm not in pain. All the assistants are so helpful and friendly as well. This is my choice of dentist for as long as possible.
Staff is always friendly, never have a long wait and they do great work! DR. NICK YOUNG makes the visit to the dentist pain free!
Welcome to Our Site!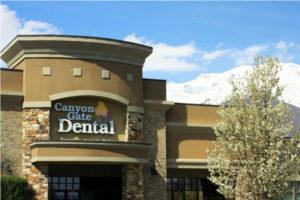 Canyon Gate Dental is home to the most caring and gentle dental team in Orem, Utah. Dr. Glenn Payne, Dr. Nick Young, and their excellent staff can take care of all your family's restorative, preventive, cosmetic, and emergency dental needs. With reasonable prices, a treatment philosophy emphasizing prevention and education, and a track record of consistently doing things right and going the extra mile, Canyon Gate Dental will provide your family with the best dental experience to be had in Utah Valley. Call to make an appointment today. We can't wait to meet you and help you keep your smile healthy and beautiful for a lifetime.
We provide the following services and features, plus many more, in our Orem, Utah office: